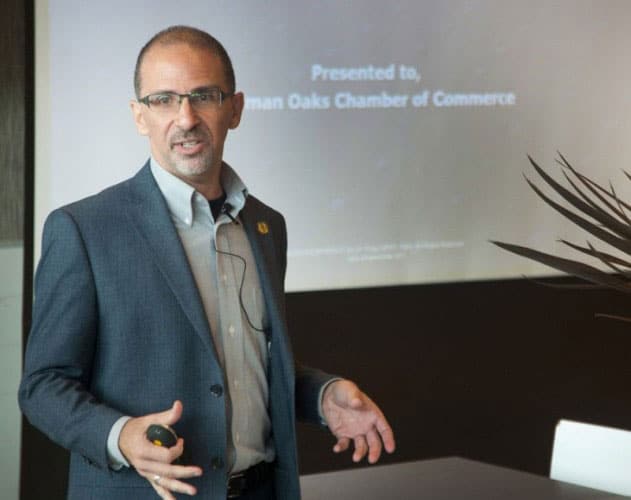 When is a product more than just an idea? And how do you balance priorities while making that idea a reality? Eric offers insights into these questions in his talks. He encourages new product developers at every level, whether the big ideas are happening in the board room, lab room, or living room. His most popular guest talks are on "3 Keys to Successful New Products®," "Managing New Product Development Project Tradeoffs," and "Creating a Product the Market Wants – Customer Discovery & Product Market Fit."
Eric welcomes opportunities to speak to your organization. Please contact him regarding availability at [email protected].
Groups he has spoken for include:
Society of Plastics Engineers
Society of Manufacturing Engineers
Industrial Designers Society of America
Project Management Institute
Society of Physician Entrepreneurs (SoPE)
Product Development and Management Association (PDMA)
ProVisors Business Network
Pepperdine University
Otis College of Art and Design
Sherman Oaks Chamber of Commerce
Rotary Club International
University of Southern California's Lloyd Greif Center for Entrepreneurial Studies
California State University Northridge, David Nazarian College of Business and Economics, Entrepreneurship Program
6/13/2023, Online – "Creating a Product the Market Wants – Customer Discovery & Product Market Fit" Hosted by, SAM Preccelerator.
6/8/2023, Online – "Proper Product Design & Product Liability." Hosted by ProVisors Silicon Valley Lawyer's Affinity Group.
4/5/2023, Online – "Boost Innovation, Boost Business." Hosted jointly by ProVisors BA Middle Market & BADAM Affinity Groups.
3/31/2023, Online – "Innovation Mashup." Hosted by University of Portland's Business Innovation class & Professor Kay Molkentin, PhD.
1/9/2023, Online – "Asset Based Innovation – Leveraging your client's existing assets for their growth." Hosted by ProVisors Innovation Affinity Group.
1/4/2023, Online – "Reshoring, A PPE Case Study & Guidelines." Hosted by ProVisors Ontario Distributors & Manufacturers Affinity Group.